Hi Everyone, 
There are numerous benefits to using Visual Schedules (VS) with individuals with Autism and there is also significant research supporting their use for individuals on the Autism Spectrum (AS). A Visual Schedule can be the key to increasing independence and managing anxiety for students with Autism. This can make a huge difference to the child and in turn diminish meltdowns, anxious behavior and foster positive growth. 
This blog goes through the advantages of visual schedules, how to create visual schedules, and what apps you can use to create visual schedules.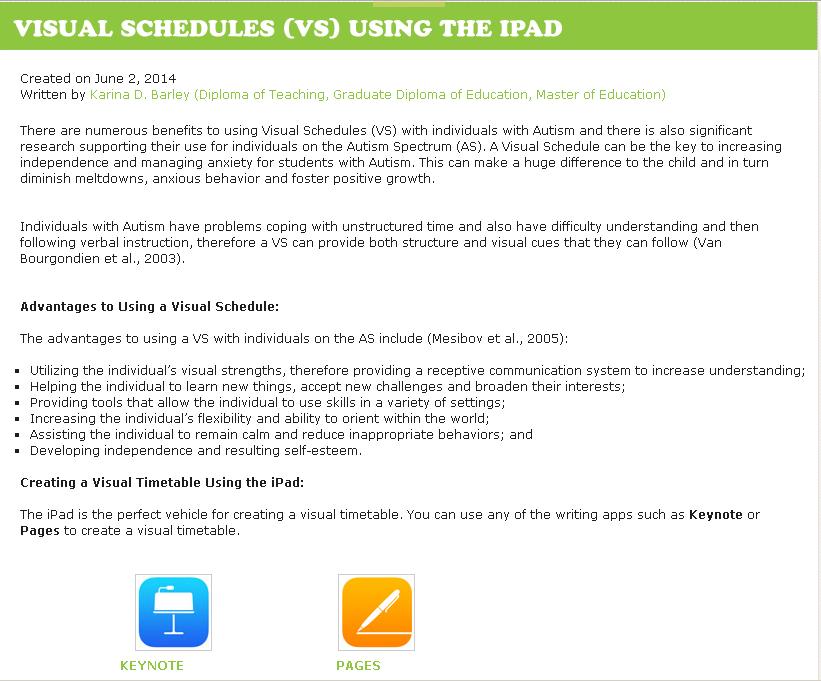 I recommend Keynote and Pages to create visual schedules, but there are many other options available. 
If you follow the links below you will be taken to the Apple App Store to download. 

To read the full blog follow the link, and sign up to receive regular updates.

Visual Schedules (VS) Using The iPad

– Karina 


http://digitallearningtree2.com/wp-content/uploads/2014/11/kozzi-tablet_computer-1449x1449-1.jpg
1449
1449
Karina Barley
http://digitallearningtree2.com/wp-content/uploads/2013/10/DLT_NEW_LOGO_BRANDON.png
Karina Barley
2014-11-06 14:08:11
2014-12-08 08:21:29
Visual Schedules (VS) Using The iPad